EGIFTCARD CATEGORIES
Over 30 plus brands to choose from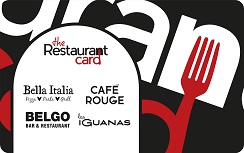 Redeem in-store
The Restaurant Card gives the choice and flexibility of being able to redeem the card at over 250 restaurants across different, famous brands including: Belgo, Bella Italia, Cafe Rouge, Las Iguanas.
Nationwide coverage includes Belgo with 5 restaurants offering a huge selection of Belgian beers and a range of delicious mussel dishes. Bella Italia with over 90 restaurants and famous for Italian dining. Café Rouge with over 100 restaurants is your local French escape right here in the UK. Las Iguanas is home to fresh & authentic South American food & cocktails. La Tasca and La Vina offering authentic Spanish Tapas.
To Redeem show the 16 digit serial number and 8 digit pin to the server The server will need to take down the details and key it in the till.
1. The value on the Restaurant Gift Card can be used as full or part payment at any of our participating restaurants. For details visit http://restaurantgroupbookings.co.uk/locations.html
2. The monies on the card cannot be exchanged for cash. Any remaining balance will be stored on the card and may be used to pay for any future purchase.
3. The gift card is valid for 24 months from the date the card had funds applied to it, or the date it was last spent. Any balance left on the card after 24 months will be cancelled.
4. You should treat this card as cash - it cannot be replaced if lost.
5. This card is not a credit, debit or cheque guarantee card.
6. We reserve the right to amend these terms and conditions at any time or withdraw the card at reasonable notice. Your statutory rights are not affected.
7. For balance enquiries please visit www.showmybalance.com