EGIFTCARD CATEGORIES
Over 30 plus brands to choose from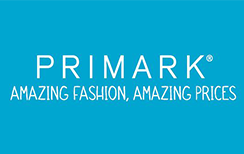 Redeem in-store
Primark is adored by fashion fans and value seekers alike and is widely established as the destination store for keeping up with the latest looks without breaking the bank.
Offering a diverse range of products, Primark stocks everything from baby and kids, to women's, mens, homeware, accessories, beauty products and confectionery.
Primark opened its first store in Dublin in 1969 under the name PENNEYS and today operates in over 320 stores in eleven countries across Europe and America.
eGiftcards are redeemable in over 320 stores throughout the UK, with new stores opening regularly. To find your nearest Primark store, click here.
Visit https://www.primark.com
This is an E-gift card that can be used to buy anything in store. Please note you must print the voucher in order to use it in store. It cannot be presented to the cashier in any other format. You must click the link, print the voucher details and present the printed voucher in store. No other formats will be accepted.

Before you go in store please make sure to print your voucher details.
You will receive these details in a separate email after purchase, simply click on the link in the email and print it, present the printed copy to the cashier.
This card cannot be used online.
Redeemable in full or part payment for merchandise (excluding Vending Machine Sales) at participating Primark stores. Cards purchased in the UK can only be redeemed at Primark in the UK
Primark Gift Cards expire 24 months after the last use or balance enquiry and any remaining balance will be deducted. Check your balance at any time at: Primark Balance Checker For more information on Primark, Primark Gift Cards and Primark Gift Vouchers visit www.primark.com
Validly activated £ Sterling eGift cards are redeemable in full or part payment for merchandise from Primark Stores within the UK. Primark eGift cards may not be exchanged for cash or vouchers. There is no right to cancel an online gift card order once the gift card has been spent in full or part.
The gift card will expire 24 months after the last use or balance enquiry and any remaining balance will be deducted.
A Primark gift card remains the property of Primark. Primark cannot be held liable for gift cards, once activated, which are subsequently lost, stolen, damaged or defaced.
The funds on a gift card are not covered by the Financial Services Compensation Scheme. In the unlikely event of the issuer of this product becoming insolvent some funds on the card may not be available to spend.
Primark reserves the right to amend these terms and conditions from time to time where it reasonably considers it necessary to do so (e.g. to change the scope of the Gift Card service, notify of the service's withdrawal or in the event of circumstances beyond its control). Reasonable notice of such changes will be given where possible.
By activating and/or redeeming a Primark Gift Card you accept and agree to these terms and conditions.
The balance of a gift card can be checked in a Primark store at any till, or online via our balance checker.

Other T&Cs for Gift Cards purchased online Gift Cards will NOT be replaced or refunded if lost, stolen or damaged. Neither Voucher Express nor Primark is responsible for funds on the card used without your knowledge. Primark Gift cards cannot be exchanged for cash and cash refunds will not be available for products purchased with this card. Primark Gift Cards cannot be exchanged for cash. Gift Cards which are defaced, altered or cancelled will not be accepted in Primark stores.