EGIFTCARD CATEGORIES
Over 30 plus brands to choose from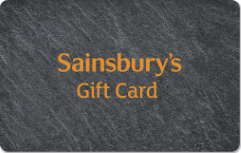 Redeem in-store
Sainsbury's offer the choice of 1000s of products from food and drink, to TU fashion, homewares, electricals, toys and books. You can shop in over 1400 stores nationwide and earn valuable nectar points as well.

Founded by John James Sainsbury and his wife Mary Ann in London 150 years ago, Sainsbury's have grown to become one of the UK's largest food retailers with over 600 supermarkets, 800 convenience stores, and nearly 250,000 online orders every week. The quality, range and provenance of their food sets them apart from other supermarkets. And it will continue to do so.
Redemption Instructions:
INSTORE USE ONLY
• Present your E-Gift Card on your smartphone device at the checkout
• Alternatively, you can print your E-Gift Card and present it at the Checkout

Terms and conditions
1. Sainsbury's E-Gift Cards can only be used at Sainsbury's Supermarkets Ltd as part or full payment for goods. They cannot be redeemed at sainsburys.co.uk
2. E-Gift Cards cannot be exchanged for cash or used to pay for Sainsbury's Bank products, services, credit card balances and concession products. They cannot be used at Sainsbury's petrol stations or in the pharmacy. For a list of concession products please see excluded products.
3. The initial and subsequent balances can be checked at checkouts instore or by calling 0800 636262. The card balance will be printed on the till receipt after each use.
4. Treat the E-Gift card as cash. If a card is lost or stolen, we can cancel it to stop anyone spending your balance and issue you with a new card, but we cannot refund any balance spent on a stolen card.
5. Instore E-Gift cards have a 24 month expiry date from the date your provider requested the E-Gift card. If not used within 24 months of first issue the E-Gift Card will expire and any balance will be forfeited. After first use in store, the E-Gift Card thereafter has a 24 month rolling expiry date from last transaction (including balance enquiries from the customer services desk in store). We will not issue expiry reminders.
6. To redeem your E-Gift Card, present it on your smartphone device at the checkout or print the E-Gift Card out and take it into store.
7. If items are returned to store in accordance with our refund policy. any refund due will be credited to your in store E-Gift Card.
8. Sainsbury's is not responsible for any unauthorised use of the E-Gift Card, and reserves the right to amend the terms and conditions of this service at any time.
9. If your E-Gift Card is lost or stolen, please contact us on 0800 636262. Lines are open Monday to Saturday, 8am until 7pm and Sunday between 10am and 4pm.
10. Manage your E-Gift Card by registering at www.sainsburysgifts.co.uk/registermycard
11. The funds on this E-Gift Card are not covered by the Financial Services Compensation Scheme. In the unlikely event of the issuer of this product becoming insolvent some funds on this E-Gift Card may not be available to spend.
12. Gift cards are non-refundable and cannot be purchased at self-serve checkouts.
13. Sainsbury's reserves the right to amend the terms & conditions of this service at any time.