EGIFTCARD CATEGORIES
Over 30 plus brands to choose from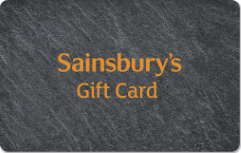 Redeem in-store & online
Sainsbury's offer the choice of 1000s of products from food and drink, to TU fashion, homewares, electricals, toys and books. You can shop in over 1400 stores nationwide and earn valuable nectar points as well.

Founded by John James Sainsbury and his wife Mary Ann in London 150 years ago, Sainsbury's have grown to become one of the UK's largest food retailers with over 600 supermarkets, 800 convenience stores, and nearly 250,000 online orders every week. The quality, range and provenance of their food sets them apart from other supermarkets. And it will continue to do so.
Redemption instructions
• To use the E-Gift Card online at Sainsburys.co.uk you must convert your voucher. To convert, enter your unique code and PIN at checkout. If a valid code and PIN has been used, you will be asked to manually enter how much you wish to convert.
• You may only spend a maximum £50.00 from an eGift Card in any one online grocery order.
• eGift Card cannot be the sole payment for an order, there has to be a credit or debit card payment to accompany the eGift Card.
• Once value from an eGift Card has been exchanged into your online account, it cannot be removed and can only be spent on online shopping.
• The E-Gift Card voucher will expire 24 months after first conversion.
• There is not a limit of number of converted eGift Cards that can be used in one transaction, but the total value of converted E-Gift Cards and coupons (which included Nectar points) cannot exceed £99.99 per order.
• Individual converted E=Gift Card added to the order cannot be the same value, for example the system will not allow £10 to be added twice, but would allow £10, £6 and £4 to be added to spend the total £20 of two £10 E-Gift Cards.

Terms and conditions
For full details please refer to https://help.sainsburys.co.uk/help/terms-and-conditions/GiftCardTCs

• Any remaining balance on the E-Gift Card, not exchanged online can be spent in-store within the expiry date of the E-Gift Card.
• The E-Gift Card voucher will expire 24 months after first conversion.
• If your order when delivered contains substitutes which you rejected resulting in the total order value falling before the E-Gift Card payment, the balance will be returned to your online account for a future order payment.
• Sainsburys.co.uk minimum order is £25 and delivery charges apply. E-Gift Cards cannot be used to pay for delivery charges