EGIFTCARD CATEGORIES
Over 30 plus brands to choose from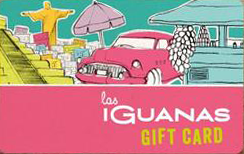 Redeem in-store
Las Iguanas is home to fresh & authentic South American food & cocktails.
Discover the finest South American dishes with unique flavour blends & inspiring recipes from Brazil, Mexico and beyond. The menu comes to life with quality, fresh ingredients, cooked with passion, love & lots of Latin magic.
Add a bustling bar bursting with classic cocktails, salsa beats & an irresistible bolt of South American energy for a true taste of faraway shores.
From fiery fajitas to classic Brazilian dishes served up in traditional pots, there's something for everyone, including gluten free and veggie menus and our award winning burgers. Using only the freshest ingredients, (our chefs prepare over 30 sauces and salsas from scratch every day), Las Iguanas is an excellent place to relish food with a topical twist and enjoy time spent together with friends and family.
** Supplied as a Restaurant Card
This is a Restaurant eGift Card that can be used in La Tasca.
To Redeem show the 16 digit serial number and 8 digit pin to the server The server will need to take down the details and key it in the till.
The value on the code can be used as full or part payment at Café Rouge, Belgo, Bella Italia, Las Iguanas, La Tasca and la Vina restaurants in England, Scotland and Wales.
The monies on this code cannot be exchanged for cash. Any remaining balance will be stored on the code and may be used to pay for any future purchase.
All monies on the code must be used by the expiry date which is 24 months from the date the card had funds applied to it, or the date it was last spent.
Any balance left on the code after 24 months of not being used will be deducted. You should treat this code as cash ­ it cannot be replaced if lost.
This code is not a credit, debit or cheque guarantee card. Casual Dining Club reserves the right to amend these terms and conditions at any time.