EGIFTCARD CATEGORIES
Over 30 plus brands to choose from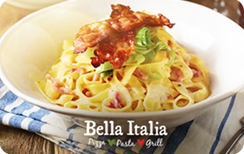 Redeem in-store
Bella Italia is famous for fantastically fun, easy Italian dining and with over 90 Bella Italia restaurants nationwide there is something for everyone including Pizza, Pasta, Grills and Italian favourites. Join us for Brilliant Breakfasts, Luscious Lunches and Delicious Dinner. So the only question is ... How will YOU spend your Bella day?
Bellas nationwide are getting a fun and fab new makeover! Packed full of fun Vespas, cosy booths and quirky Italian style, you'll LOVE our colourful new look. Soak in our bold new Mediterranean design and enjoy some seriously tasty pizza, pasta and grills – just like mamma makes! You can now even create your own gelato masterpiece at one of our Fabulous & Amazing Gelato Carts. Bellissimo!
** Supplied as a Restaurant Card
This is a Restaurant eGift Card that can be used in Bella Italia. To Redeem show the 16 digit serial number and 8 digit pin to the server The server will need to take down the details and key it in the till.
Show a copy of your gift code to the waiting staff.
The value on the code can be used as full or part payment at Café Rouge, Belgo, Bella Italia, Las Iguanas, La Tasca and la Vina restaurants in England, Scotland and Wales. The monies on this code cannot be exchanged for cash. Any remaining balance will be stored on the code and may be used to pay for any future purchase. All monies on the code must be used by the expiry date which is 24 months from the date the card had funds applied to it, or the date it was last spent. Any balance left on the code after 24 months of not being used will be deducted. You should treat this code as cash ­ it cannot be replaced if lost. This code is not a credit, debit or cheque guarantee card. Casual Dining Club reserves the right to amend these terms and conditions at any time.