EGIFTCARD CATEGORIES
Over 30 plus brands to choose from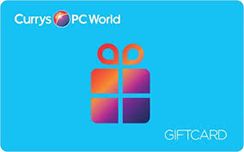 Redeem in-store & online
Enjoy Currys PC World Gift Cards
Currys PC World Gift Cards can be redeemed in over 700 Currys PC World outlets nationwide and offer a huge range of state-of-the-art products including TVs, audio, PCs, phones and mobiles, personal hi-fi and domestic appliances.
Currys
The UK's largest electrical retailer with an extensive range of TVs, Hi-Fi, DVDs, cookers, fridges, PCs, mobiles, washing machines and microwaves.
Visit the Currys Digital site: www.currys.co.uk you can also redeem your gift card here!
PC World
The UK's leading chain of computer superstores, offering an extensive range of PCs, Laptops, digital cameras, printers, software, games and accessories.
Visit or redeem your gift card at the PC World site: www.pcworld.co.uk
From iPods to irons, gadgets for everyone. Treat someone to a gadget they really want with a Currys PC World gift card.
Visit https://www.currys.co.uk
CurrysPCWorld Gift Cards T&Cs Validly activated £ Sterling gift cards are redeemable in full or part payment for merchandise from CurrysPCWorld Stores within the UK.
CurrysPCWorld gift cards may not be exchanged for cash or vouchers.
There is no right to cancel an online gift card order once the gift card has been spent in full or part.
The gift card will expire 24 months after the last use or balance enquiry and any remaining balance will be deducted.
A CurrysPCWorld gift card remains the property of CurrysPCWorld. CurrysPCWorld cannot be held liable for gift cards, once activated, which are subsequently lost, stolen, damaged or defaced. The funds on a gift card are not covered by the Financial Services Compensation Scheme. In the unlikely event of the issuer of this product becoming insolvent some funds on the card may not be available to spend.
CurrysPCWorld reserves the right to amend these terms and conditions from time to time where it reasonably considers it necessary to do so (e.g. to change the scope of the Gift Card service, notify of the service's withdrawal or in the event of circumstances beyond its control). Reasonable notice of such changes will be given where possible.
By activating and/or redeeming a CurrysPCWorld Gift Card you accept and agree to these terms and conditions.
The balance of a gift card can be checked in a CurrysPCWorld store at any till, or online via our balance checker.