EGIFTCARD CATEGORIES
Over 30 plus brands to choose from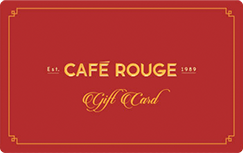 Redeem in-store
Founded in 1989 Cafe Rouge has quickly grown in popularity with over 100 restaurants bringing a taste of France. For breakfast, lunch, dinner or just a leisurely latte, Café Rouge is your local French escape right here in the UK. Indulge in Parisian-inspired pastries, croques, and baguettes, plus popular favourites like Steak Frites and Duck Confit. French inspired dining experience - no plane ticket required.
Include for full description
It's easy to see why it's so popular thanks to their varied menu of sumptuous classics given a French twist! The menu of seasonal specials ensures you get only the finest and freshest produce straight to your table. You can always be sure of finding firm favourites on the menu year-round though, including the ever popular 35 day aged beef steaks cooked to your exact specifications. Whether you opt for the fillet, sirloin or rib eye, you're in for a succulent treat.
With a relaxed atmosphere and stylish décor, you'll feel welcome as soon as you set foot inside Café Rouge. Perfect for any occasion you'll find intimate booths for a romantic meal as well as larger tables and private rooms ideal for larger groups celebrating a special occasion.
** Supplied as a Restaurant Card
This is a Restaurant eGift Card that can be used in Cafe Rouge. To Redeem show the 16 digit serial number and 8 digit pin to the server The server will need to take down the details and key it in the till.
Show a copy of your gift code to the waiting staff.
The value on the code can be used as full or part payment at Café Rouge, Belgo, Bella Italia, Las Iguanas, La Tasca and la Vina restaurants in England, Scotland and Wales. The monies on this code cannot be exchanged for cash. Any remaining balance will be stored on the code and may be used to pay for any future purchase. All monies on the code must be used by the expiry date which is 24 months from the date the card had funds applied to it, or the date it was last spent. Any balance left on the code after 24 months of not being used will be deducted. You should treat this code as cash ­ it cannot be replaced if lost. This code is not a credit, debit or cheque guarantee card. Casual Dining Club reserves the right to amend these terms and conditions at any time.