EGIFTCARD CATEGORIES
Over 30 plus brands to choose from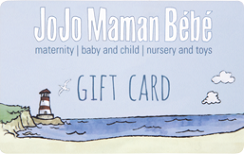 Redeem online
JoJo Maman Bébé is a leading British maternity, baby & nursery designer and retailer. At JoJo Maman's you can find gifts and toys, clothes for girls and boys and nursery and maternity goods. You can find JoJo Maman Bébé stores at dozens of locations in the UK or order from their online store.
Visit https://www.jojomamanbebe.co.uk
1. The JoJo Gift Card is not a cheque guarantee, credit or charge card.
2. The value added to the Gift Card must be in the same currency that the Gift Card is purchased in.
3. Gift Cards can be used as full or part payment. If the value of a purchase exceeds the value of the Gift Card then the remainder can be paid with a debit or credit card or PayPal.
4. Gift Cards cannot be used to purchase Gift Cards.
5. Gift Cards cannot be refunded.
6. Gift Cards cannot be exchanged for cash.
7. Gift Cards are valid for 12 months from the date of issue or last use.
8. Gift Cards ordered online will be sent recorded delivery and separately to any other items ordered in the same transaction.
9. If a Gift Card is lost or stolen, JoJo Maman Bébé is only able to replace or reimburse the Gift Card if it has been registered. Only the balance remaining when the card was reported lost or stolen will be reimbursed.
10. JoJo Maman Bébé cannot be held responsible for the unauthorised use of a Gift Card where the card number and/or PIN have been knowingly or unknowingly disclosed to another party.
11. If a product purchased with a Gift Card is returned, the value of the return will be refunded on to the Gift Card used for payment, providing the Gift Card is still active. If the Gift Card is inactive a new Gift Card will be issued to the value of the returned item(s). If a refund is required for a purchase which was paid for using a Gift Card combined with another method of payment, the refund amount will be credited to the original or new Gift Card in the first instance, and if the total to be refunded is more than originally paid using the Gift Card, any outstanding balance will be refunded to the other payment method used. 12. Gift Cards remain the property of JoJo Maman Bébé who has the sole right to cancel a Gift Card if deemed necessary.