EGIFTCARD CATEGORIES
Over 30 plus brands to choose from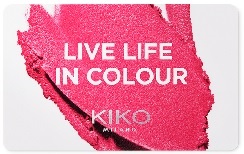 Be who you want to be with KIKO Milano. Letting the beauty queens of the world, follow their heart's desires and beauty visions in different fashions to be had with makeup galore - KIKO offers a bountiful array of goods to let you bring your daily looks to life. Whether you want to refresh your day look with a lightweight foundation for a dewy and youthful finish, indulge in a set of eye shadows to create a smouldering evening look, jazz up for a festival or just because - at KIKO you can create with the beauty products and tools available - there's no end to your look here.

'Begin with Skin' - a philosophy by KIKO - because there isn't a better way to prime yourself perfect for makeup than by giving your skin some TLC. Find cleansers, exfoliators, moisturisers, treatments and more for a variety of skin types at KIKO too. It's well worth investing some time into your skincare routine, and with hair care, sun protection products and those all important beauty tools such as brushes, eyelash curlers, sponges and more - from the onset of your beauty ritual through to the finishing touches - get inspired by KIKO goods and start your journey to a happy you.
The KIKO Gift Card can be spent on any product (even those which are discounted) and/or paid service available at the KIKO MAKE UP MILANO points of sale or on the kikocosmetics.co.uk online store. The Gift Card can also be used to pay shipping costs for online orders.

Using in store: present the Gift Card at the till when paying.

Using online: select Gift Card as the payment method when at the checkout and (after selecting the type of shipping) enter the number under the Barcode and the Security code beneath the scratch-off silver strip.

The Gift Card KIKO is valid for 2 years from its date of activation (the date that it is purchased) or until the balance reaches zero. It cannot be reloaded or used to purchase another Gift Card.
The Gift Card shall be valid for two years from the date of its activation. If the validity of the Gift Card expires any balance will be forfeited and will not be refunded.

The Gift Card is activated when purchased. It must be purchased with a minimum value of £20 (twenty) and a maximum value of £999 (nine hundred and ninety-nine), in multiples of £1; value cannot be added to the Gift Card after purchase.

Gift Cards can be used as full or part payment for any goods or services purchased online at www.kikocosmetics.co.uk (subject to website terms and conditions) or in stores, until the balance on the Gift Card reaches zero.

The balance on the card cannot be exchanged for cash. Any refunds on items purchased using the Gift Card shall be exclusively in the form of a voucher for the same value.

Gift Cards are not valid for the purchase of other Gift Cards. No promotions, vouchers, coupons or discounts shall apply to the purchase of Gift Cards.

Gift Cards should be treated as cash. They are not credit, debit or cheque guarantee cards, and cannot be blocked. KIKO MAKE UP MILANO accepts no liability for lost, damaged or stolen Gift Cards, or for any inappropriate use, and will not provide replacements or refund any balance.

To check the balance on your Gift Card, or for any further information, please check www.kikocosmetics.co.uk, or contact our Customer Service.

KIKO SpA reserves the right to amend these Terms and Conditions, or terminate the Gift Card scheme with no less than a twelve-month prior written notice. We will inform of any amendments or discontinuation through signage in our stores and on our website.

These Terms and Conditions apply within the limits of the applicable laws.